Lina Cruz - Fila 13 Productions
Tempo al Dente (2017)
Length of piece : 22 minutes
Choreography, direction and props : Lina Cruz
Dancers : Raphaëlle Fougères and Geneviève Robitaille
Music : Philippe Noireaut
Photo: Maxime Daigle

This work premiered in Quebec City at La Maison pour la Danse in October 2017, presented by La Rotonde

Residency

Maison pour la Danse (Quebec City, QC)

A co-production of Fila 13 and XYZ Collective
Excerpts
Excerpts
"Cruz's work is original, never predictable. Her rich vocabulary punctuates here and there with humor, always applied with tact (...) Special mention to the dancers who, besides mastering a complexe choreography, integrate a prop to their partition - a clock in this case. A beautiful reflection on the passage of time."

October 11 2017 / DAPHNÉ BÉDARD Le Soleil, Quebec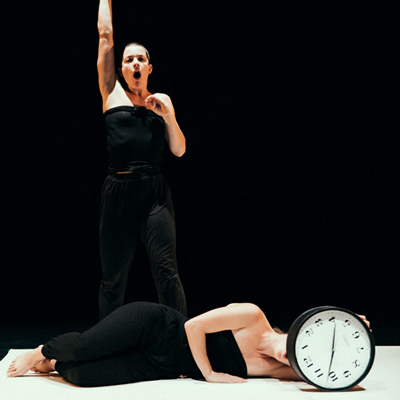 What to do with a two-faced clock
running around like a chicken without a head?
Domestication, domestication!

Carefree and non-chalant, two adventourous characters
depart on a grand voyage; a pet clock, finally subdued, follows obediently at their feet...

Highly marked by individuality, the dancers joyfully dwell in this choreography, their mouvements interconnect symbiotically, imbricating their bodies as if a contagious clockwork mechanics was, after all, overpowering them...

Besides clock domestication, this duet is composed of: shiphorns announcing departure,
little sensitive humming cries, vivacious physicality, unison declamation, music, a ravaging resolution,
quirky dance vocabulary, on and off singing, incongruent sounds and gestures, and a profound love of Time...