Press Quotes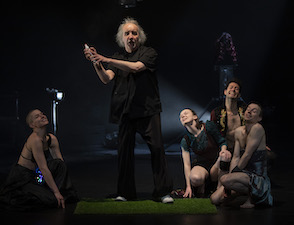 Morphs

Magazine Spirale - "(...) The unconscious, joyfully unveiled, is carried with versatile sensibility. It is an insatiable spotlight focused on the most colorful and vigorous of imaginations."
Guylaine Massoutre, Spirale Magazine, October 29 2021

patwhite - "(...) And finally, we forget the minutes that pass, the time of a dream that never ceases to surprise. A dream I highly recommend."

Thomas Bastien, patwhite.com, October 29 2021

Zone Culture - "(...) this work by Lina Cruz, imprinted with as much sensuality as humour, as much physical prowess as audacity, is a true gift for the senses. (...)."
Yanik Comeau, Zone Culture, November 17 2021

Tic Tac Party

JEU - Revue de Théâtre "Lina Cruz's dance vocabulary is decidedly audacious and offers unique findings, as amidst a madness in which her surreal imagination is playfully complicit."

"The soloist, Geneviève Robitaille, dressed as an aged baby wearing a diaper wanders around with a cane, miming a sort of Baudelairian albatross, a magical being as awkwardly placed on earth as a poetic bird spreading its wings on the deck of the vessel of human nature."

Translation of an excerpt of a review by Guylaine Massoute,
Revue de Théâtre JEU, March 18th, 2017 - Read more







Imaginarium, don't feed the animals!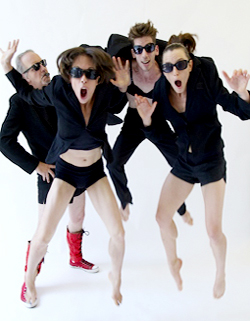 Le Devoir - "The Banquet of Lina Cruz - According to the Banquet of Plato, Zeus split humans in two (...) Starting off the season with great panache at Agora, Lina Cruz's captivating and accomplished creation seems to reunite the halves, giving shape to a scintillating, whimsical and unconventional landscape on stage (...) Delivered by excellent performers, Imaginarium offers a refreshing plunge into Cruz's phantasmagoric imagination, while proposing, all in all, a critical reflexion on social, political and artistic realities (...) rendering breathable a world otherwise more and more uninhabitable."
Nayla Naoufal - Read more

Dfdanse - "(...) Lina Cruz stands out (...) a joyful blending of her experience and technical abilities as well as the unbridled imagination she possesses, which, when all put together, clearly define her signature. Her ability to give the perfect dose of technique and physicality to the body in all its splendor (...) and the conceptual layers of her raving works is astounding."
Audray Julien - Read more

Danceprofilers - "It's zany, and it's affecting. You'll smile, you'll laugh, you'll frown and you'll even feel your heart start racing as the urgency the dancers project from the stage draws you in. Imaginarium, ne pas nourrir les animaux was a great first show for 2015 and I look forward to the fourth installation of the life and times in Cruz's imaginary land."
Pia Savoie - Read more


Soupe du Jour
Recipient of two Dora Mavor Moore Awards 2012 (Outstanding Choreography and Outstanding Sound Design/Composition)
One of NOW Magazine's Top 5 Dance Picks of 2011 -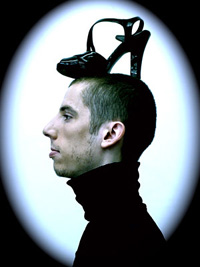 "Cruz has a confident choreographic voice that's playful, soulful and profound. (...)"
NOW Magazine, August 18-25, 2011, Toronto

"What the hell? - Good question. Though not as good as 'Why the hell not?'
"Choreographer Lina Cruz's dance might as well be pulled from the subconscious into the physical world. (...) Cruz's choreography delightfully resists rationalization. When one is under, it all somehow makes sense. This just happens to be a world where people walk on empty beer cans. No wonder that the word 'surrealism' is one that often comes up in discussions of Cruz's work (...)"
Sylvain Verstricht, Indyish.com, Montréal, 2010

"Lina Cruz brings back surrealism to surface - (...) This type of choreographic work, so physical and so creative, seems to me of great interest (...)"
Translated excerpt of review in LaRepublicaCultural.es, Spain, J. Castro, Nov 16 2010

"What can Lina Cruz offer us? - (...) an extravagant world from which we can compose a thousand stories in our minds. The delirious magician, creating music on stage, leading the dancers from moments of collective apathy to a revolutionary march revindicating the right to instant poetry (...)."
Le Polyscope, Montreal, Raphaelle Occhietti//Culture, November 17 2010

"Canned Soup? - (...) In the ocre lighting, the dancers, in costumes both sober and buffoon like, amuse themselves so naturally, almost like animals, yet following technical precision. It's simple, their performance seems so exact and innate that they give the impression that if you hit the rewind button and play again, you would see exactly the same film, without a different step or a different gaze (...)." "(...) The effect is magical : you are literally drawn into successive tales in which time does not exist anymore (...) At the première, people seemed regally fulfilled, and, at the end, instead of tapping their spoons for more soup, their enthusiastic applause was heard loud and clear."
Translated excerpt of review in Df danse, M. Gerbier, Montreal, Nov 8 2010

"Lina Cruz's Soup du Jour: wow."
Twitter comment by Now magazine's Glenn Sumi@glennsumi
August 14, 2011 via txt

K-5

"The Strange Beauty of Insanity - Every once in a while, there comes a show to remind me why I love contemporary dance. Last night, Lina Cruz's K-5 was that show. Completely insane, yet tangibly following its own internal logic, it manages to constantly maintain our interest because it is simply impossible to anticipate where it will go from one moment to the next(...) Near the end, when Noireaut exclaims "Vivons couchés! (Let's live lying down!)", his voice is satisfyingly carried by the force of irony. K-5 is a work that refuses to take life lying down. It dares to live to the full extent of its insanity and manages to end on the perfect note in the process. It's the creation of a strange world, a true work of art, and one of the best shows of the year."
Sylvain Verstricht, The Concordian, Montréal, 2008
"Erotic Vision -(...) The result is a cohesive, erotic vision much like a Bosch painting sprung to life. Sinuous dancers dressed in exotic and revealing costumes move through charged interactions like taut elastics, creating ornate tableaux and a mystical and sensuous atmosphere."
Erin Flynn, Mirror, Montréal, 2008

"The Rite of Fantastic Creatures - (...) Only three days left to savor the new spiritual celebration, hyper esthetic and phantasmagoric creation of the Montreal choreographer. Not to be missed."
Marie-Chantal Scholl, Dfdanse, Montréal, 2008
COQUILLE D'ŒIL (Eye Shell)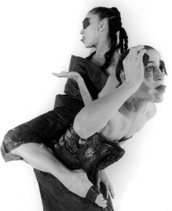 "Discovery and imagination - (…) Lina Cruz's visits to Quebec City have been rare in the past (…) easily we regret not having seen her more frequently. Her work is a wide open door to discovery and imagination."
Daphne Bédard, Le Soleil, Québec, 2007

(…) "As original as intriguing and entertaining, Eye Shell is worth the trip."
François Dufort, ici, 2006


"Planet Cruz - (…) A work of great originality which seems to leave no-one indifferent."
F. Cabado, Df danse, 2006

"A sight for sore eyes - Cruz's first rate intelligence keeps her careful choreography playful and wicked, yet cutting (…)"
Philip Szporer, HOUR, Montréal, 2006

"Lina Cruz delivers a work filled with ingeniousness and humor (...)"
F. Doyon, Le Devoir, Montréal, 2006

"With the flap of a wing - Eye Shell, the latest creation of Lina Cruz, takes the spectator into a world, both unsettling and humorous, inspired as much by the eye as by the egg (…)"
Stéphanie Brody, La Presse, Montréal, 2006

"Elaborate Intuition - (…) a polished work, suggestive, poetic and magnificently performed (…)"
Revue Por la Danza, Madrid, 2004


DIDON & AENEAS

"The imagery draws from hieratic quality of the performers and from the magnificent choreographies conceived by Lina Cruz. (…) What is most captivating is the impression that unity is coming from the fact that each of the dancers is doing different movements in an original and intriguing sense of togetherness (…)"
F. Tousignant, Le Devoir, Montréal, 2005

FUGITIVE INSPIRATIONS

"Lina Cruz, unlike no one - (…) her choreographies, like Fugitive Inspirations, are memorable and uncomparable."
S. Brody, La Presse, 2006

"Lina Cruz displays fervently her elegant silhouette, multiplicity in her dance, moving her body parts with unusual independence, always with delicacy and finesse."
J. P. Pastori, 24 heures, Lausanne, 2001

"(...) quite spectacular (...) a very personal, interesting and original work which can reach and touch many audiences (...); imagination reigns, sensitivity on stage, a beautiful show to watch and to listen to (...)"
J.P. Pastori, Café des arts (Radio RSR), Lausanne, 2001

"(...) It is with great pleasure that we could see again some parts of Lina Cruz's Fugitive Inspirations (...); the addition of the choir (Mruta Mesri), used here as a stage element, responding rhythmically to the playful hesitant gestures (Cruz's), gives this solo work even more strength (...)"
Stéphanie Brody, La Presse, Montreal, 2001

"The strange and the humorous at Tangente--- This is precisely what renders dancer-choreographer Lina Cruz so fascinating. With her angular features, her oblique look and disjointed moves she brings to life three enigmatic and bizarre characters which seem, image by image, straight out of a Tim Burton animation."
Stéphanie Brody, La Presse, Montreal, 2000

"Lina Cruz, full of imagery --- "Lina Cruz reveals her imaginary world with her very particular way of articulating her body (…) as if her body in trance dictated to reason that here and now what reigns is a throbbing pulse." (translated from French)
Marie-Ève Lacasse, Le Graffiti, Montreal, 2000

…about Lina Cruz's previous work "(…) The dancer-choreographer's solo program was a revelation of a major talent. Her imagination is a soaring wonder and few movers understand the chemistry of the theatre as well as Cruz."
Ph. Szporer, HOUR, The Year '96 in Review, Montreal, 1996 "Totally defies classification (…) very imaginative (…) a very strong presence on stage (…)each solo has a very precise character…the emotions that these characters experience are very human, yet the characters themselves are not (…) that's what's so interesting, fascinating (…)"
Andrée Martin, Radio Canada, Montreal 1996 "Honorable mention…originality… humor (…) Chapeau!…"
Linda Boutin, VOIR, Montreal, 1996 "…a splendid sample of the dancemaking in Canada… an enviable control over each muscle in her body…" (translated from Spanish)
La Jornada, Mexico, 1997 "Cruz's gestural language is probably the main source of bedazzling (…). Her strength and flexibility are tested in balancing acts worthy of the Cirque du Soleil (…) her choreographs involve successive patterns of briefly frozen images (…). It is Cruz's body who acts the parts, and upon seeing it you'll marvel how much more it communicates than words."
T. Tembeck, The McGill Daily, Montreal, 1996